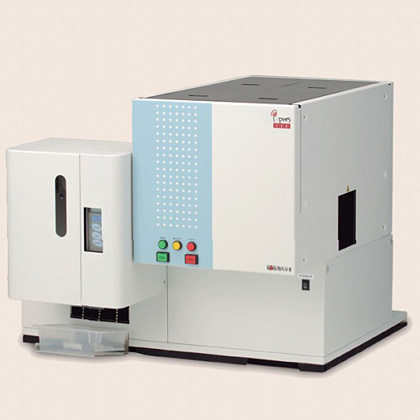 Automatic tube-preparation system
(4-tube type)
The automatic tube-preparation system "i・pres fit" picks up a tube and pastes a printed label. This is the smallest size in our series, which can process orders from HIS/LIS. The accurate operation of pasting labels reduces error-reading of barcodes.
High-speed & safety operation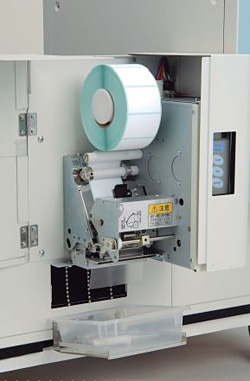 The system can paste a label on a tube in 4 seconds. 4 types of tube are supported, and up to 400 tubes can be stored.
Users can supply tubes without stopping operation.
Users can supply tubes without caring tube directions.
Simple structure & Compact design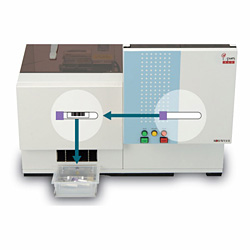 Desktop size (670mm(W) x 646mm(D) x 537mm(H))
A manual labeling printer is optional.
A linear and short conveyor reduces machine failures.
Flexible application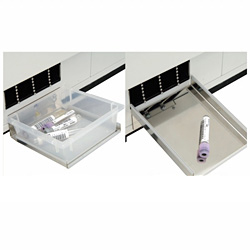 Either of online operation (in communication with HIS/LIS) and offline operation is available.
There are 2 issuance modes; Normal issuance (preparing tubes per patient) and Continuous issuance (preparing a specific type of tube).
[Specification and Function]
Applied Testing Tubes
12~18mm(Diameter), 75~110mm(Length)
Stopped type - Rubber, Film, Plastic, Stopper less
Variety of Testing
4 kinds
Preperation Capacity
400 tubes(100 tubes for each kind)
Preperation for Blood Collecting
[Normal issuance] Prepared for specific tray per order
[Continuous issuance] Continuously prepared for the counted tubes
Tray Discharge Unit
1 prepared and waiting trays can be stacked onto any container
Printing Function
Type of imprinting : direct thermal (Optional: thermal transfer)
Imprinting characters : Kanji(1st, 2nd standard), Alphanumeric, Kana, Bar code
Bar code : Code 39, Code 93, Code 128A / B /C, NW-7(Codabar),
     Interleaved 2 of 5, JAN-8. 13, PDF-417
Others: Rotary Inprinting (90/180/270), Monochrome inversion, Gradation, Ruled line, Design of label printing layout for each tube (up to 9 kinds)
Labeling Function
Operation capacity - 5 seconds / tube
Design of label sealing position for each tube
Reissuance of labels function
Options
Patrol light lamp, Backup printer
Consumption Electricity
175W (single phase AC, 100V 50 / 60Hz)
External Dimensions
670mm(W) x 646mm(D) x 537mm(H) / 55kg (main equipment only)
The above contents are subject to alteration without prior notice due to an improvement of the specifications, function and external dimensions.