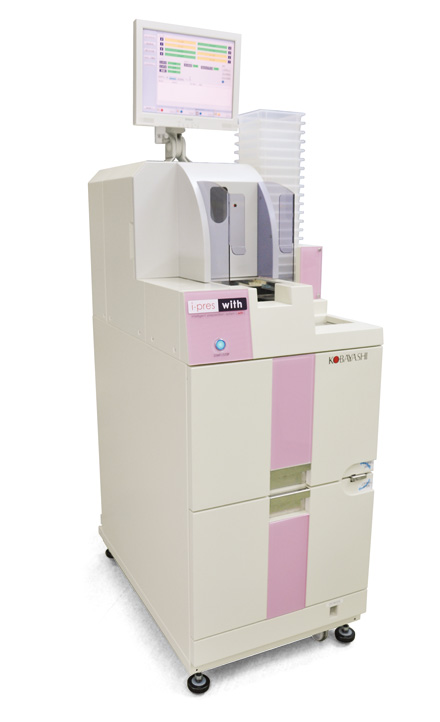 Blood Collecting Tube Labeler
(8 tube type)
The automatic tube-preparation system "i・pres with" picks up a tube and pastes a printed label according to orders from HIS/LIS. Our system reduces human/medical errors, and increases efficiency in blood sampling work at hospitals, clinics, and medical check centers.
High efficiency
Pasting a label on a tube in 4 seconds
Supporting 8 types of tubes (Up to 100 tubes in a stocker)
Setting a label position for each tube type
Archiving fail-safe operation with 2 printers
Space-saving design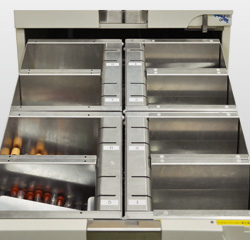 One of the smallest body size in the world (550mm(W) x 817mm(D))
Tube replenishment and machine maintenance at the front face
Built-in control PC installed
Easy to Operate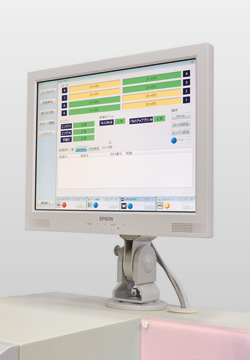 Visual user guide displayed on the monitor
Protection cover attached to moving parts
Safety locks provided at drawers
[Specification]
Applied Testing Tubes
12~18mm(Diameter), 75~110mm(Length)
Stopped type - Rubber, Film, Plastic, Stopper less
Variety of Testing
8 kinds
Preperation Capacity
800 tubes(100 tubes for each kind)
Preperation for Blood Collecting
Preperation for specific tray per order
Tray Supply Unit
20 empty trays can be supplied
Tray Discharge Unit
10 prepared and waiting trays can be stacked
Prior discharge of prepared tubes(Priority output function)
Prior outlet attached
Printing Function
Type of imprinting : direct thermal / thermal transfer
Imprinting characters : Kanji(1st, 2nd standard), Alphanumeric, Kana, Bar code
Bar code : Code 39, Code 93, Code 128A / B /C, NW-7(Codabar),
     Interleaved 2 of 5, JAN-8. 13, PDF-417
Rotary Imprinting (90 / 180 / 270), Monochrome inversion, Gradation, Ruled line
Design of label printing layout for each tube(up to 9 kinds)
Labeling Function
Operation capacity - 4 seconds / tube
Design of label sealing position for each tube
Reissuance of labels function
Consumption Electricity
800W (single phase AC, 100V 50 / 60Hz)
External Dimensions
550mm(W) x 817mm(D) x 1,380mm(H) monitor part exclusive
The above contents are subject to alteration without prior notice due to an improvement of the specifications, function and external dimensions.