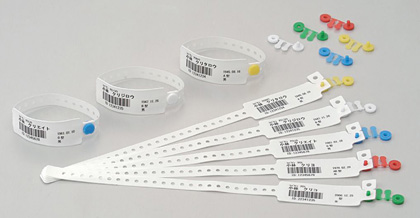 Patient Identification Wristbands
Users can print patient information on a wristband with a printer. This effective patient identification method reduces human/medical errors. Besides, special polyurethane gives superior wear resistance and tensile property (strength and elongation).
Printable polyurethane product
Patient information texts and one/two-dimensional barcode can be printed on the wristband of special polyurethane.
Using a dedicated barcode printer and ribbon cartridge enables alcohol-free printing.
All you need is a printer and a scanner for patient ID.
Super-soft contact & Reliable closure
Super-soft skin contact ensures patient comfort for people of all ages, including newborns through seniors.
It is easy to apply: cut out a wristband from a sheet after printed, and attach a snap closure.
Superior wear resistance and tensile property prevent the band from coming off.
No harmful substances
Our wristband does not contain harmful substances including endocrine disruptors, chlorine, and heavy metals.
It does not give a negative impact on the environment when incinerated or disposed. Also, the highest safety of band material is evaluated.